Today, April 22, 2020, is Earth Day!
This isn't just any regular Earth Day, either! Today marks the 50th anniversary of the very first Earth Day EVER!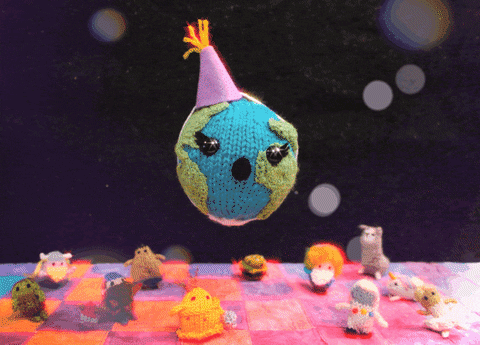 (Psst… for those of us who are having trouble due to the "quarantine brain syndrome," the first Earth Day was in 1970)
So… What is Earth Day, exactly?
We'll get into that, but first here are some quick facts:
Date/Origination: April 22, every year, since 1970.
Reasoning: To promote awareness and appreciation for the Earth's environment.
Countries Involved: Over 175 countries in the world celebrate Earth Day.
Records being Broken: It is the largest, most celebrated environmental event worldwide. 
History is Cemented: Let's explore that a little further (after this amazing scenic picture)
Prior to the first Earth Day, the Industrial Revolution had been progressing for decades. Air pollution was prevalent, yet no one seemed to know or care. That mindset changed with Rachel Carson's bestselling book Silent Spring in 1962, which she used to raise awareness of the links between pollution and public health. With this knowledge, nearly 8 years after the book's publication, Senator Gaylord Nelson organized the first ever National Earth Day. His mission was to sound the same alarms that Rachel Carson had sounded nearly a decade before; of the harm industry had done to our environment. 
You know what? And it actually worked! You can read more about this amazing revolution here. 
"How do we get involved? Take action? Show appreciation and recognition for this day? How can we help our children?" 
Breathe… We have you covered. Below are ways to help your children, neighbors, and yourselves get involved. 
You could…
Watch a Documentary/Movie with your Kids
There are many different movies and documentaries that show the devastation modern man has wreaked upon the earth.  A few suggestions that are kid (and adult) friendly are:
– The Great Global Clean-Up – Zac Efron and Zach King team up with a slew of celebrities to highlight "individuals and organizations that have made it their mission to help clean up our planet." – Premieres April 22, 9pm ET on Discovery Channel
– Climate Change: The Facts – Sir David Attenborough (always extraordinary) hosts this documentary that shows the facts about climate change, the solutions that could save the Earth, and interviews with experts. – Premiers April 22, 8pm on PBS
– Elephant – Disney Nature brings this film to us. Following an African elephant, Shani, and her son, Jomo, you will fall in love with this movie easily. – Streaming now on Disney+
Additional films can be found over at Buzzfeed, who always amaze!
You could…
Teach Your Children the Value of "Going Green"
So many useful, everyday tasks can help conserve energy and reduce waste. 
– Turn the lights off when you leave a room. You can encourage the little ones by making a game of it and keeping score.
– Utilize your recyclables in crafting projects.
– Re-use clothing. You can either donate or upcycle them to create props and toys, like doll dresses and sock puppets.
– Grow your own herbs! Bonus: use recyclable pots, like containers, to hold the soil.
You could…
Use how "bored" your children are to get them involved
This day, Earth Day goes digital. So many ways to help, so little room. A few of my favorite are: 
– Utilize Scavenger Hunts to get the little ones outdoors and learning about nature. Make sure you take initiative and to pick up discarded waste.  A set from Primary Playground can be found in the images below.
You could…
Create Eco-Art (in any expression)
With so many artistic avenues available to pursue, if you have a hobby, a passion, or a drive, you can create. 
– Check out the Artists For The Earth site, which connects artists and organizations to raise awareness about critical issues of the environment.  Sign up available here. 
– If you are in need of some inspiration, the Artist Gallery has some sights to behold! 
– The Global Stealth Street Art Campaign is a showcase of graffiti writers, street artists, and muralists from every continent who use the power of art to inspire action and thoughts for our plant. 
♣♥♣♥♣♥♣♥♣♥
There's a lot you can do to help, right!?
Yes, I know what you're saying, too. "Jessica, Earth Day is almost over."
My response: It's never over. We can improve this world everyday. Our children deserve it, don't you think? 
♥♦♥♦♥♦♥♦♥♦♥
Additional Resources can be found at the following links:
Closing Thoughts
I would like to thank you all for taking the opportunity to read this post. I hope at least some of us learned something (I know I did) or benefited from some of this knowledge. I, for one, am also very excited about trying some of the new activities with my son! 
Remember.
Don't let those precious moments pass you by. Document the adventures you have with your kids (they'll only be this age once)!
Give the Legacy of Love App a try. You won't regret it.  
You will then have a treasured scrapbook to pass on from generation to generation. It's FREE, so what's holding you back!?
This post has been brought to you by Jessica Cleveland – mother, writer, creative producer at Under the Tower Productions, and team member here at Legacy of Love.